When I'm not in class I spend my free time playing video games. I am currently jumping around with Twilight Princess, Kingdom Hearts 2, Red Dead Redemption, Super Mario Bros. Wii (it brings people together and such), among others. I mooch xbox live off my friends so I can get at Halo 4 every now and then.
Assignment 1: Create an autobiographical index for yourself and a fictional character that you create. This assignment really made me take a step back and look at where I am in life right now. I thought about my past and everything that has influenced who I am today. My index for my fictional character is not as serious. I took it upon myself to create a vigilante. Someone to watch over the city. His name is Anphibiman because he is half man half gecko and he has a very tragic backstory.

Allergies, 7
Animals, 59
Animation, 29
Art, 49
Aspirations, 27
Athletics, 31
Birds, 42
Birth, 1
Brothers, 4-8
Bruno, 48
Cats, 26
Catholicism, 16
Childhood, 12-10
College, 60
Creamery, Coldstone, 57
Cruise, 47
Death, 38
Diet, 41
Disaster, 32
Disneyland, 37
Dumbledore, 25
Family, 3-8
Fast Food, 55
Fears, 33
Fire,10
Florida,13
Friends, 54
Gaming,12
George McCann, 56
Hamsters, 53
Health, 34
High School, 51
Home, 2-8
House, 8
Injury, 30
Ink, 46
Jobs,24
Justice, 45
Leal, Jessica, 28
Lucasarts, 20
Lucasfim, 22
Lucas, George, 21
Mexico, 15
Musicals, 14
New York, 35
Parents, 5-6
Pets, 50
Piano, 36
PJ, 8
Potter, Harry, 11
Presidency, 52
Productions, 43
Redwood, 39
Rosa, 1-60
Santa Cruz,19
Snakes, 13
Star Wars, 20-23
Tattoos, 40
Theater, 17
Tigers, 44
Ukulele, 29
Visalia, 18

Alter Ego, 20
Anger, 29
Anguish, 31
Anonimity, 9
Anphibiman, 2
Battles. 6
Combat, 13
Condition, 22
Courage, 7
Deaths, 27
Envy,17
Evil, 36
Fears, 24
Fights, 21
Fury, 14
Gecko, 26
Hatred , 16
Identity, 4
Jobs, 20
Killing, 12
Loss,34
Love,33
Master, 10
Naming, 5
Nemesis, 35
Orphanage
Parents, 1
Powers, 28
Pride, 32
Regrets, 3
Revenge, 30
Skills, 15
Training, 11
Turmoil, 8
Underground,19
Vengeance, 37
Weakness, 23
Weaponry, 18
Wrath, 25

Another part of this weeks assignment was to think of an example of mechanical reproduction today. I think a good example is torrenting music and putting them on cds. It is mechanical reproduction because the data is already available online and just needs to be transferred to a cd for the masses. However, this is illegal and you didn't hear it from me.

Assighnment 2: Create an algorithum for a drawing for someone to complete. My instructions were to create a setting with people involved. Then to recreate that same setting after an apocalypse of their choosing. Nico made me this. It's awesome because if I were given these istructions then I probably would have drawn a zombie apocalypse but by giving it to Nico I got to see how he thinks creatively and how his creative mind differs from mine. His idea was so cool!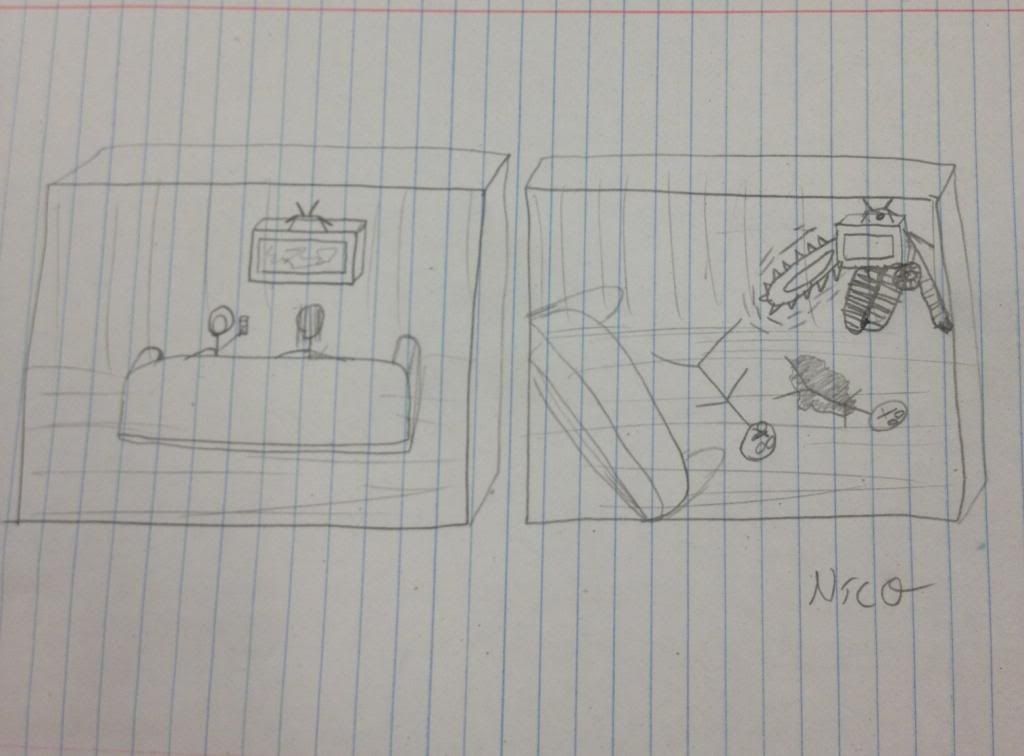 The second part to this assignment was to create a logo for the website, which can be found in the top left hand corner of this page. I believe it describes me well. As opposed to creating a logo in a program I instead sketched up what I felt descibed me and edited the photo I took of it to create a more personal logo. It describes me very well. I knit and watch Star Wars, a lot.

Assignment 3: In continuation with the fictional character we are also supposed to give him and email address and a facebook account. Unfortunately, due to Anphibimans secrecy he has been unable to connect with friends and people from his past. He hasn't had much attention on facebook and surprisingly no one has been calling him about crimes. Could the city really be that safe?! A link to his facebook can be found in his section of this website right below this.

Assignment 4: Collect sound to swap with someone, then create a new sound using what you've collected and what someone gave you to work with. I swapped sounds with Dean and then made this. What I liked about this project was that I learned how to use audacity and I got to put together sounds that didn't go well together at first, and transform it into something completely new.


Assignment 5: Collect video to swap with someone, then create a new video using what you've collected and what someone gave you. I swapped video with Donna and her portion is the beginning and end of my video. A couple weeks ago Kyle told us to take one of the projects that we had been working on and to re-edit/ redo it and make something new. I decided to redo my video, completely. I suddenly had an idea to creat a video that would require a lot of cutting and editting. In the end I decided to take the hit song Bye Bye Bye by the wonderful boyband 'N Sync and film a couple groups of people lipsyncing it. This allowed me to work with friends and gather a bunch of different versions of this song. I then cut it up a bunch and created one video using all the grous of people I recorded. It was cool because it shows the comfortability of people in front of a camera just letting loose and having fun! I also partook in the video because it was awesome to jam ot with my friends. Enjoy!
Bye Bye Bye from Rosa Gonzles on Vimeo.
In need of some crime fighting?
Have you been mugged?
Did your house get broken into?
Are you afraid of the dark?
Who you gonna call?
Anphibiman. Your friendly neighborhood crime fighter.
Contact him here.