The Best Snickerdoodle Cookies You've Every Had
Be the talk of the party with these moist and chewy cookies. You'll want to make copies of the recipe: your friends are sure to ask you for it!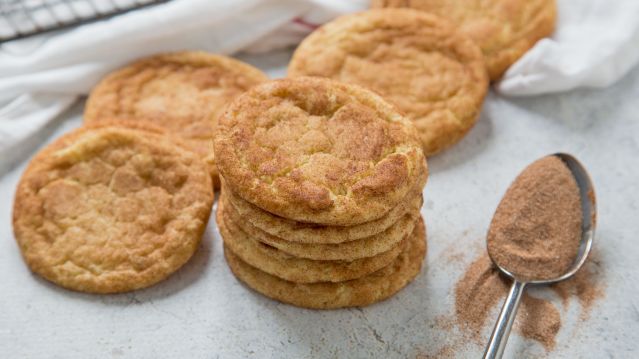 ---
Ready in: 25 mins Serves: 24

Here is what you will need:
1 cup butter
1.5 cups sugar
2 large eggs
2.75 cups flour
1 tsp baking soda
0.25 tsp salt
3 tbsp sugar
3 tsp cinnamon
1 tsp vanilla extract
Directions:
Preheat oven to 350 degrees F.
Mix softened butter, 1.5 cups sugar, 1 tsp vanilla extract, and eggs in a large bowl until smooth.
Combine flour, baking soda, and salt in a a separate bowl.
Blend dry ingredients into butter mixture.
Chill dough, and chill an ungreased cookie sheet for about 10-15 minutes in the fridge.
Meanwhile, mix 3 tbsp sugar, and 3 tsp cinnamon in a small bowl.
Scoop 1 inch globs of dough into the sugar mixture.
Coat by gently rolling balls of dough in the sugar mixture.
Place on cookie sheet and bake for 10 minutes.
Enjoy!
---
Questions or comments? Feel free to email me at dmrazohe@ucsc.edu

Make sure to check out Genuis Kitchen for more tasty recipes! HI THERE